Become a B3 BFR Certified Coach

B3 Coaches will get advanced BFR Training for application and use of B3 Bands
BFR History and Science

Safety and Contraindications

Difference in BFR Bands

How to Explain BFR

How to do a BFR demonstration

How to use B

3

Bands

 effectively

Maximizing BFR Results in Exercise & Rehab Protocols

Using your Certification to market yourself as a B

3

Certified BFR Coach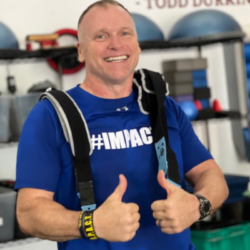 • 6 Hour Online Course
• Optional Written Examination to be completed within 15 days
• Certificate and BFR Certification # will be issued to students who pass the exam
Course Fee: $289.99
Additional Person Fee: $179.99
Online Course
Dr. Mike will consider an in-house Certification Course for your group or organization. To inquire, send an email to [email protected]
- To be Certified by B3 Sciences, you must be a current B

3

Consultant or Customer who has previously or will be purchasing a set of B

3

Bands

 after the course
Continuing Education Credits
The following health professionals listed below will receive credit for CEU's.
You are not required to purchase BFR Bands from B3 Sciences to receive attendance verification for the CEUs below.
- Physical Therapists: Arizona (5 hours), California (6 hours), Idaho (6 hours), Illinois (5 hours), Indiana (6 hours), Nevada (6 hours), Ohio (6 hours), Tennessee (5 hours), Utah (4.5 Hours), Vermont (6 hours)

- Naturopath Doctors (6 hours): All Doctors in the American Naturopath Medical Association USA
 ANMCB Provider Page
- Chiropractors (6 hours) : All Members of Fetterman Group
- Personal Trainers, Fitness & Wellness Coaches (6 hour

s):

NASM
To learn more about enrolling contact B

3

Sciences:
- Phone/Text: 972.214.5844
Be prepared to get the full meal deal with this BFR Certification Course! The depth of the material is comparable to any graduate level education and yet presented in a way that anyone with an interest in health will be able to grasp the overriding principles of BFR. While this course provides greater exposure to the science of BFR, it also gives practical and useful insight on how to better impact your own health and others who you may share this life-changing concept with. Personally, the more I learn, the more I am amazed at the whole-body benefits of BFR done right. If you are going to do BFR, do it right. Dr. Mike DeBord and B3 Sciences will support you in the certification process if extra time and attention in certain areas are needed for satisfactory comprehension. I encourage everyone to take your game and influence to the next level and become a B3 BFR Certified Coach, humanity will thank you for your efforts!
The six hour BFR seminar by Dr. DeBord this last weekend at Fetterman events very well presented and easy to understand and implement. I am excited about the new way to exercise in a short period of time and get better results than the old long grueling painful exercises of the past. Since almost everyone can do this in 10 to 20 minutes and get all the benefits of exercise, I encourage everyone to get on the bands.
Steve Jennings, DC
Rensselaer, Indiana 
I attended Dr Mike's seminar on BFR in Milwaukee. I have to say it was one of the best courses I could have attended in a long time. I was flabbergasted that this type of workout system has not been available and DrMike did an EXCELLENT job of explaining the science and the methods of BFR. I am completely on board and will be implementing this in my office."
Donald Pfau, DC, DIBCN
One of the most interesting seminars I've taken in the past 28 years.  The information is immediately applicable to patients in a meaningful and profound way. Straightforward, simple and researched to be both safe and effective.  Highly recommended.
Ken Otto, DC
Appleton Wisconsin
The BFR course I attended was amazing.  It opened up a whole new area of exercise that I wasn't aware of. This will make exercise more efficient and less stressful on the body and allow me to change how we do it in my clinic and community.
Kurt A Simons, DC
Waukesha, WI 
I cannot say thank you enough to Dr. Mike for the information shared in the B3 Certification presentation. Even though I have been exposed to much of the information before, to have it all presented in one presentation was extremely informative and I know it will help me to become a better BFR Coach to the people and professionals I will be talking with as I build my business. I am especially appreciative of Dr. Mike's ability to take something very scientific and break it down into simple explanations and word pictures. This will be extremely effective with the people I talk to and coach in their journey with BFR.
Brandon Hahs
Missouri
I have been working with and selling B3 BFR bands for close to 2 years now and have a BS in Exercise Science. I thought I had pretty much known all I needed to know about BFR and the practical applications and techniques. After taking Dr. Mike's BFR Certified Coaches Course I realize I was mistaken and there is an abundance of information learned I did not know. Additionally, it was helpful to refresh my memory on those things I knew or had forgotten I knew. I now have a clear and confident understanding of BFR and how to coach others on using B3 bands. I highly recommend any B3 Consultant to take this course and become a B3 Certified Coach.
Rob Betzold
Texas
I found this training to be of a higher level than any prior training with some intriguing presentations of in-depth material which has not been available to me at any time prior. The presentation was both educational and interesting in the method of delivery.
After participating in this course, I found myself hungering for more knowledge relating to the effects and benefits of BFR and the function and interplay of the various systems of the human body. The course has provided a basis to better present the B3 Bands. I appreciated the information discussing the age-related decrease in HGH and the studies addressing this issue.
John Wellmon
Utah
The B3 BFR Certification Course has helped me to become more like a pro in this new revolutionary way to workout and exercise. It gives a deeper level of comprehension so I can educate others on the benefits of blood flow resistance (BFR), so lives can be changed.
Christine Jennings CMT
Indiana
Dr. Mike knows blood flow restriction training! I have studied a great deal of the amazing video presentations that Dr. Mike has produced for the various B3 sites, and I have examined material from other sources. This certification blew them out of the water. Dr. Mike takes the material surrounding blood flow restriction training and presents it in an easy to understand manner. He covered the essentials and filled in many gaps in my understanding of this form of training. I recommend this training to any coach, trainer, or therapists who is looking to use this form of training with the population they serve.
Scott Corso, PT
New Hampshire