ANABOLIC HORMONAL RESPONSE TO BRFT
BFRT + light weights generates a growth response throughout the entire body.
HEMODYNAMIC AND HORMONAL RESPONSES TO A SHORT-TERM LOW-INTENSITY RESISTANCE EXERCISE WITH THE REDUCTION OF MUSCLE BLOOD FLO
H. Takano, T. Morita, H. Iida, K Asada, M Kato, K. Uno, K. Hirose, A. Matsumoto, K. Takenaka, Y. Hirata, F. Eto, R. Nagai, Y. Sato, T. Nakajima.
Eur J Appl Physiol (2005) 95: 65–73
1. LIGHT WEIGHTS + BFR PRODUCES PROFOUND MUSCLE FATIGUE.
2. NERVOUS SYSTEM COMMUNICATES FEELINGS TO BRAIN (MUSCLE BURN).
3. PITUITARY RELEASES GROWTH HORMONE.
4. ANABOLIC HORMONES CIRCULATE IN BLOOD STREAM.
5. THE ANABOLIC HORMONE RELEASE FACILITATES REPAIR AND INCREASE STRENGTH IN ALL EXERCISED TISSUES.
This is an oversimplication of the complex theory of the mechanism behind BFR.  Additional materials are available to all our clients.
For example, the graph on this page shows the ANABOLIC HORMONAL RELEASE as documented by a robust increase in circulating growth hormone levels (GH) 30 minutes after a BFR session, where the same exercise without BFR produces no increase in GH levels.
The field of blood flow restriction training continues to evolve, and our mission is to keep you informed of the latest developments.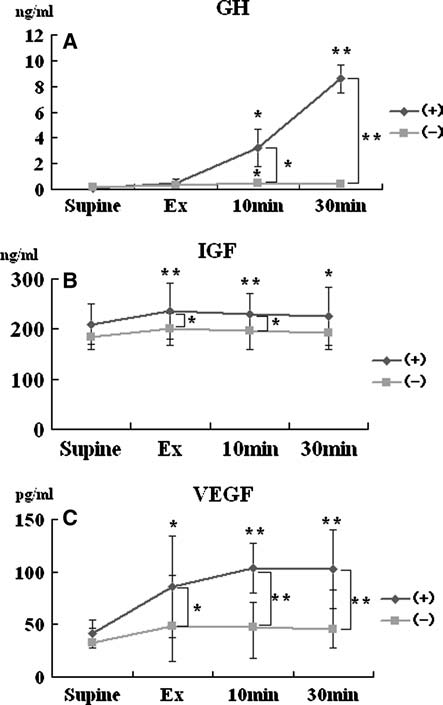 H. Takano, T. Morita, H. Iida, K Asada, M Kato, K. Uno, K. Hirose, A. Matsumoto, K. Takenaka, Y. Hirata, F. Eto, R. Nagai, Y. Sato, T. Nakajima.
Eur J Appl Physiol (2005) 95: 65–73