Physical Therapists Are Using Blood Flow Restriction Bands And Improving Patient Outcomes
Blood Flow Restriction Bands Are Being Used In More Physical Therapy Clinics In the U.S. What are the benefits that physical therapists see with this new rehabiliation tool?
"Blood Flow Restriction Bands (BFR Bands) are a wonderful tool for physical therapists. They have multiple uses in physical rehabilitation but are particularly useful with patients that have limited limb movement or are in a plaster cast," stated Dr. Mike DeBord of B3 Sciences, Inc. "I have had hundreds of discussions with physical therapists and once they learn of BFR Bands and how to apply them they use them daily. There are extremely beneficial with the rehabilitation of lower extremity or leg injuries. Everyone can benefit from their use from professional athletes to seniors to 8 year-olds."

What Is Blood Flow Restriction Physical Therapy (BFRT)?
BFRT is accomplished by placing bands around the arms or legs that apply external pressure and reduce blood flow to the arms or legs. The reduced blood flow makes the muscles work harder because they are receiving less oxygen. Working muscles harder makes them adapt and promotes hypertrophy or the increase in the growth of muscle cells. Making muscles work harder also prevents atrophy, which is the decline and reduction of muscles from underuse or injury.
When Would You Use Blood Flow Restriction Training?
BFRT can be implemented at any time with any group including elite and Olympic level athletes that are improving their performance. However, physical therapists frequently use BFR bands when a patient is load compromised, that is, unable to perform exercises normally.
"After Rotator Cuff surgical repair of a shoulder, it is a lengthy process for a patient to have the ability to rebuild strength both safely and effectively. Blood Flow Restriction Bands have helped bridge the gap allowing patients to safely increase their shoulder strength earlier in the post-op recovery process while feeling a satisfying 'burn'. The BFR bands have been extremely valuable in allowing for an efficient return to activity," stated Jon Rhodes of Rhodes Physical Therapy in Utah.
"After suffering a posterior tibialis injury, it has been very challenging to return to running and working out how I would like. The BFR Bands feel good in getting a burn that allows me to feel I get a challenging workout in only 5 minutes. They have allowed me to stay patient throughout the recovery process and they have kept the recovery process fun," stated one of the patients of Rhodes Physical Therapy.
An additional benefit, as mentioned in the patient comment above, is that BFRT tires the muscles more quickly and therefore workouts or physical therapy sessions require less time.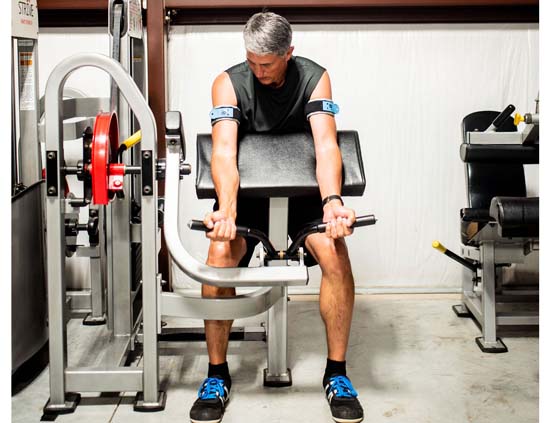 What Exercises Can You Do With BFR Bands?
There are dozens and dozens of different exercises that can be done with BFR bands. These exercises include every category such as weights, no weights, elastic bands, limb movement, etc. The same general rules of physical therapy apply to the use of BFR bands, the most important being "if it hurts, stop doing the exercise".
"The physical therapy and rehabilitation community has been very receptive to blood flow restriction training. They are the eyewitnesses of the positive results that their patients experience. Many are now encouraging surgery patients to begin BFR training two weeks after their surgery. It is a revolutionary method of improving patient outcomes and I am delighted to be part of this process," exclaimed Dr. DeBord.
Dr. DeBord is the President of B3 Sciences, Inc. His company specializes in providing easy to follow videos and lifetime coaching to his customers and clients. "Once people experience BFR Bands, they rarely go back to the old, long and hard way of exercising!", he stated.